I design innovative solutions for brands, agencies and cultural institutions by fusing storytelling and communication design with creative algorithms, data, human interaction and programming.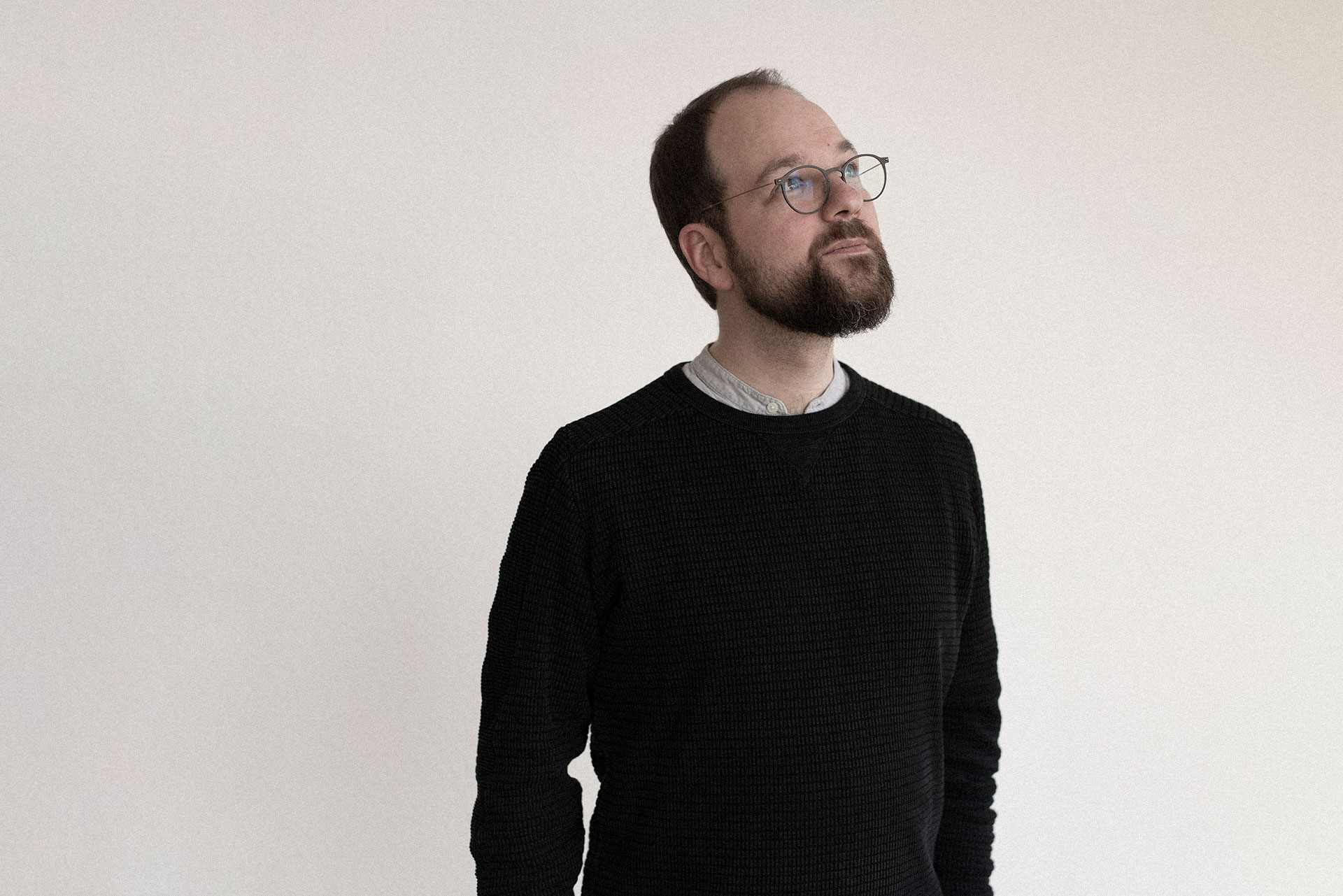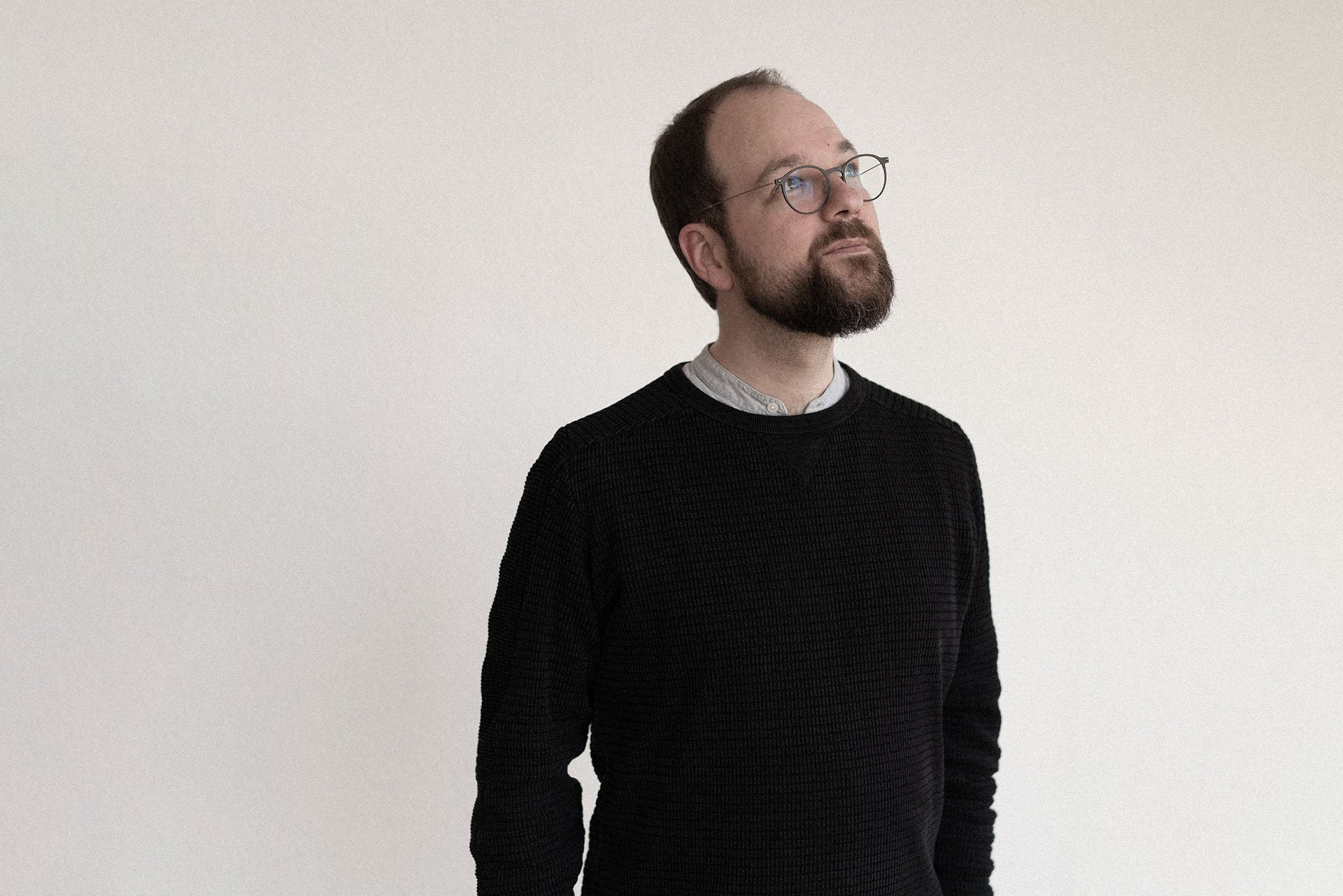 I blend the mindset of a Creative Director with the capabilities of a Creative Technologist to ideate, design and develop dynamic and reactive brand experiences across a multitude of touchpoints.
I am driven by the question how the mixture of data, human interaction, artificial intelligence and storytelling can transform the impact of communication design. By applying new and cutting edge techniques of creativity to my work with Generative Design systems and programming languages, I research emerging opportunities for brands and agencies to set themselves apart by leading future conversations.
Drawing from a rich background of 15+ years as a Creative Director for leading national and international brands, I constantly cross the boundaries of design, technology and art. I collaborate with agencies and companies to develop meaningful and engaging forms of visual – often times interactive – communication and brand experiences across a multitude of touch points.
Select clients and partners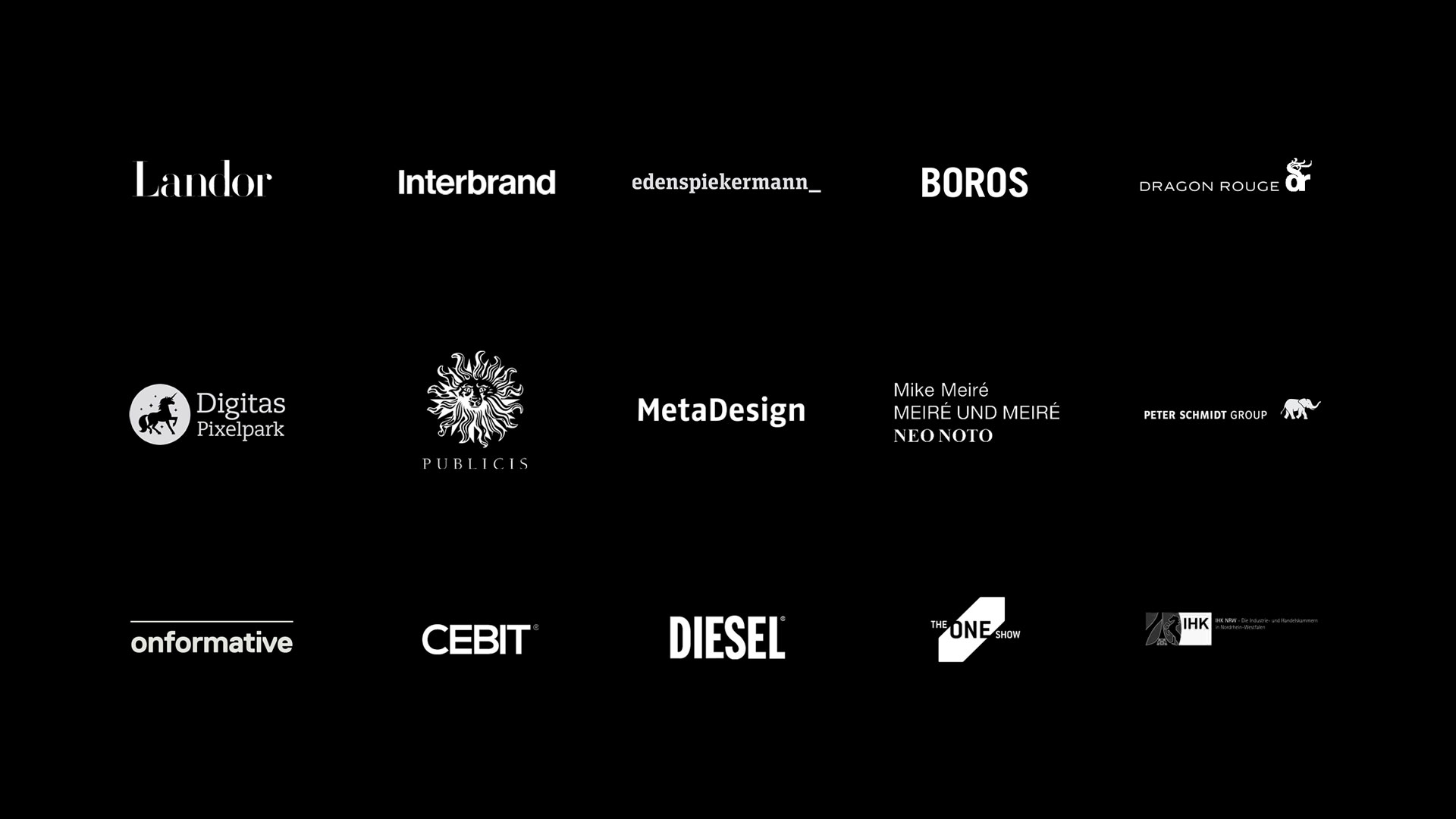 As a specialist in my field I am lucky to collaborate with some of the world's leading agencies and companies to enrich their stunning work with my unique perspective.
I work with multi-disciplinary teams and guide them on their journey of creating solutions in the realm of Generative Design – all the way from ideation to production.
I help their visions and products grow by equally contributing my perspectives as a Creative Director – focussing on people, experiences, stories and insights – and my skills as a Creative Technologist. These strategic and creative partnerships unlock new forms of creativity, expression and system-driven design.
Talks, workshops and exhibitions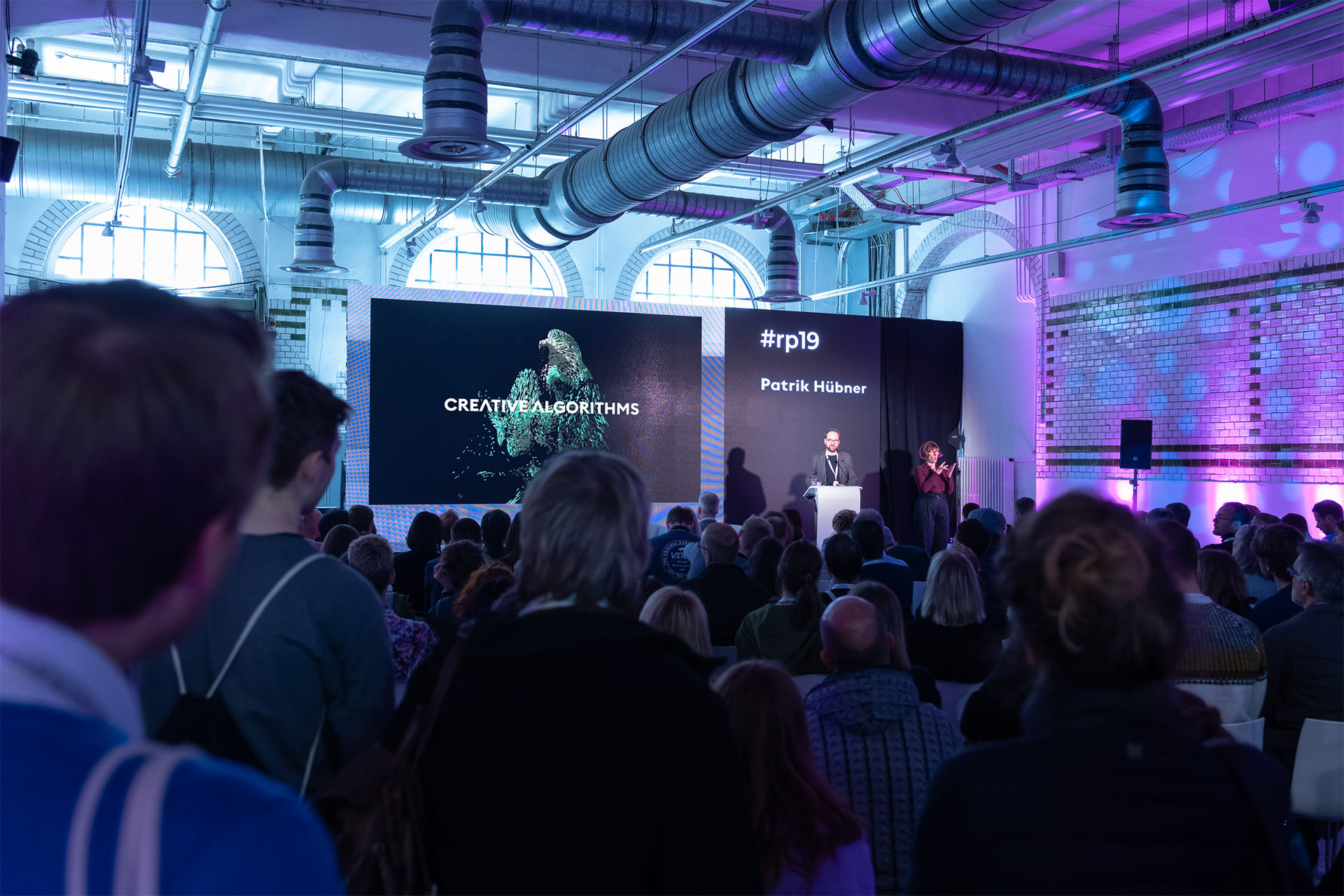 PHOTO J. KONRAD SCHMIDT / DENKFABRIK DIGITALE ARBEITSGESELLSCHAFT, RE:PUBLICA BERLIN 2019
I love to fuse storytelling, technology, design and art in a unique blend of expressions. And I really love to share and exhibit my insights, thoughts and learnings that come with being able to work in this fascinating field.
Lectures, Talks & Workshops
2021 Nov. 26th
ITERATIONS Creative Coding symposium
Digital Talk
Netherlands
2021 Nov. 19th
Bayern Design
Digital Workshop
Germany
2021 Nov. 8th
OLTA Community Talk
Digital Talk
United Kingdom
2021 Oct. 21st
Zwischenraum Talk
Digital Talk
Germany
2021 Aug. 21st
Processing Community Day
Watch the talk online (English)
Digital Talk
Worldwide
2021 July 30th
Accenture Interactive
Digital Talk
Germany
2021 June 6th
planworx AG
Digital Talk
Germany
2020 Nov. 3rd
Wavelab
Watch the talk online (German)
Digital Talk
Germany
2020 Sep. 9th
IBM
Digital Talk
Worldwide
2020 Sep. 4th & 11th
Landor & Fitch (Talk & Ideation Workshop)
Digital Workshop
India
2020 June 17th
re:agency
Digital Talk
Australia
2020 May 19th
Landor Associates Singapore
Digital Talk
Singapore
2020 May 11th
écal (École cantonale d'art de Lausanne)
Digital Talk
Switzerland
2020 Mar. 12th
Digital Design Ruhr
Bochum
Germany
2019 Oct. 17th
Langer Donnerstag
Dortmund
Germany
2019 Sep. 16th
Peter Schmidt Group (Workshop)
Frankfurt
Germany
2019 Jul. 1st
Design Forum Münster (AGD)
Münster
Germany
2019 Jun. 27th
IHK Branchentreff Kreativwirtschaft
Bonn
Germany
2019 May 20th
IHK Creative Showroom
Bielefeld
Germany
2019 May 7th
re:publica 19
Watch the talk online (German)
Berlin
Germany
2019 May 2nd
Publicis Drugstore »Meet the makers«
Hamburg
Germany
2019 Jan 10th
MetaDesign/Telekom – Synchronized Design
Düsseldorf
Germany
2018 Dec. 7th
Edenspiekermann
Amsterdam
Netherlands
2018 Nov. 6th
Landor Associates London
London
United Kingdom
2018 Oct. 24th
Dutch Design Week
Watch the talk online (English)
Eindhoven
Netherlands
2018 Jun 6th
Münster School of Applied Design (Workshop)
Münster
Germany
2017 Oct. 18th
Institut für Gesellschaft und Digitales
Münster
Germany
2017 Sep. 14th
IT-Flash
Paderborn
Germany
2017 Jun. 21st
Call for disruptive ideas (TecUP)
Paderborn
German
Exhibitions & Live events
| | | | |
| --- | --- | --- | --- |
| Permanent | Aspect on Sixth | Portland | United States |
| 2020 Aug.-Sept. | Upload exhibition, Stadtmuseum | Paderborn | Germany |
| 2019 Jul. 6th | RESET*mixed arts | Vreden | Germany |
| 2019 Jul. 5th | JSNation Conference | Amsterdam | Netherlands |
| 2019 Jun.-Aug. | »BITS-BYTES-ART«, 50 years of digital art | Paderborn | Germany |
| 2018 Mar. 16th-18th | Digital Design Days & OFFF | Milano | Italy |
| 2018 Mar. 15th | AASS Jazz x Visuals | Enchede | Netherlands |
| 2018 Jan.-Feb. | APT Gallery, »Expanding Systems« | London | United Kingdom |
| 2017 Oct. 18th | Berlin Leuchtet Festival | Berlin | Germany |
| 2017 Sep. 23rd | Marta, contemporary art museum | Herford | Germany |
| 2017 Jul. 26th | Ambient night special event | Paderborn | Germany |
| 2017 Jun. 1st – 3rd | Digital Design Days & OFFF | Milano | Italy |
| 2017 Feb. – Mar. | »Irgendwas mit Medien« | Paderborn | Germany |
| 2017 Jan. | Generation Arts | Paderborn | Germany |
| 2016 Dec. 30th | INJUVIK + Exchampion | Münster | Germany |
| 2016 Oct. 30th | RESET*Festival | Münster | Germany |
| 2016 Sep. 18th | FZW: WE TRUST! SHOW | Dortmund | Germany |
| 2016 Aug. 15th – 18th | Platine Festival | Cologne | Germany |
| 2016 Jul. 23rd | LABORI | Paderborn | Germany |
| 2016 Feb. 2nd | Domicil INJUVIK + AASS | Dortmund | Germany |
| 2016 Jan. 23rd | INJUVIK + Moglebaum | Bielefeld | Germany |
| 2016 Jan. 16th | Bedroomproducers Releaseparty | Paderborn | Germany |
| 2015 Dec. 7th | »Zuflucht Paderborn« | Paderborn | Germany |
| 2015 Jun. 25th | PROJEKTOR #2 | Paderborn | Germany |
| 2015 May 9th | PopKon #1 | Paderborn | Germany |
Awards & Press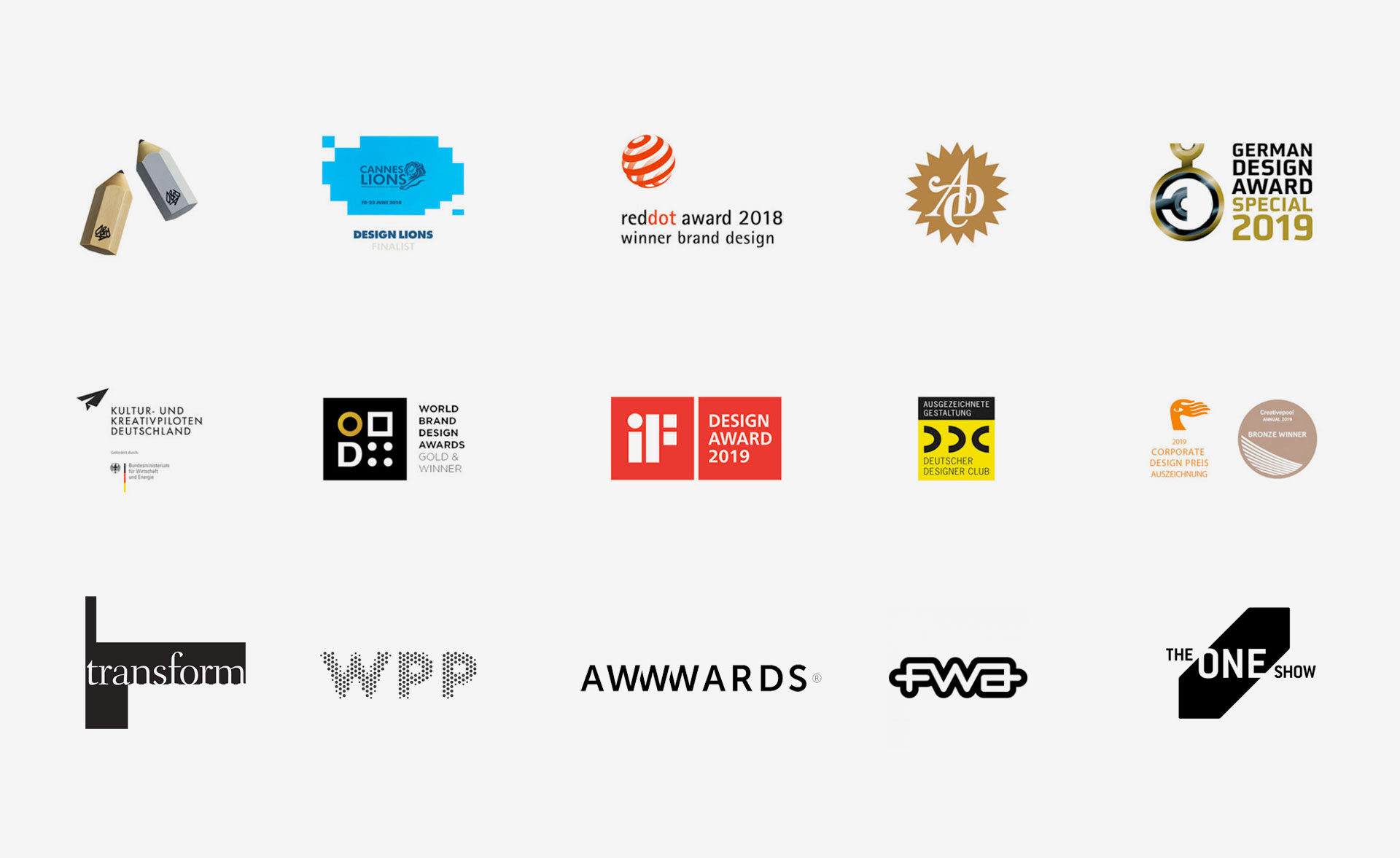 Awards
2021
mapda Awards
Winner Best in Show
Winner Program Website
Canberra
Australia
2020
Transform Awards MEA
Gold – Best visual identity from the public sector
Gold – Best use of audio brand
Silver – Best brand evolution
Highly commended – Best use of visual property
Middle East
Asia
2020
Orpetron-WDA Site of the month
Ankara
Turkey
2020
awwwards. SOTD
Barcelona
Spain
2020
awwwards. Developer Award
Barcelona
Spain
2020
FWA (Forward Web Association) FOTD
Cambridgeshire
United Kingdom
2020
The One Show, ADC
Judge "Creative use of Data"
New York
United States
2019
D&AD Awards. Graphite & Wooden Pencil
London
United Kingdom
2019
ADC Award. Bronze Nagel
Hamburg
Germany
2019
German Design Award, Special
Hamburg
Germany
2019
iF DESIGN AWARD
Hamburg
Germany
2019
World Brand Design Awards. Gold & Winner.
London
United Kingdom
2019
DDC Ausgezeichnete Gestaltung
Frankfurt
Germany
2019
Creative Pool Annual Awards, bronze
London
United Kingdom
2019
Corporate Design Preis
Eschborn
Germany
2018
Red Dot Award
Berlin
Germany
2018
Cannes Design Lions, Finalist
Cannes
France
2018
Preisträger Kultur- und Kreativpiloten
Berlin
Germany
2018
WPPed Cream Award
London
United Kingdom
2017
Call for ideas
Paderborn
Germany
Press
2020
»Two Degrees Creative displays 200
recycling symbols at online exhibition space
SHUTDOWN.gallery«
Read the article
The Brand Identity
2020
»Novel stories, created by Creative Algorithms«
Listen to the Podcast (English)
Tech + Art
Canada
2019
»What's Generative Design«
Read interview
Dragon Rouge
Germany
2019
form282 »Dekonstruktion«
Read online
form magazine
Germany
2019
»Generative Design: Q&A with
Creative Algorithm Developer, Patrik Hübner«
Read interview
Edenspiekerman Magazine
Netherlands
2019
»Generative design creates new ways to form
a brand's identity«
Read article
Design Indaba
South Africa
2019
Podcast: »Drugstore Podcast« (German)
Listen on Spotify Listen on iTunes
Publicis
Germany