Is the future
of design generative?
Designers usually work at the intersection of idea and form. Artificial intelligence is challenging this position today. By enabling laypeople to generate form from text, it automates the design process and replaces designers with programs. So where is the place of designers in the future?
Patrik Hübner made the transition from traditional to generative design years ago. Driven by data and given form by algorithms and programs, his generative design systems open the door to an unusual approach to design: designers are no longer the executive agents of the design process, but rather the system's idea-generators.
An interview about the future of design, conducted by Sonja Pham and Larissa Lenze
Originally published in German in Grafikmagazin issue 2/2023
In this interview, Patrik talks about his experience as a freelance generative designer in the international agency industry. He explains how his projects are created, why artificial intelligence is not a threat to designers, and why he believes that anyone who wants to remain competitive in branding and design in the future should know the principles of generative design.
Grafikmagazin: Patrik, with your focus on generative design, you are still rather an unusual player in the creative field. What brought you to this particular design method?
Patrik: It actually developed gradually. I learned programming in my early teens and developed my interest for design a bit later. At that time, I earned some money designing websites on and off – but never intended to make it my profession. During my studies, I met an entrepreneur who was looking for a web designer to build his online marketing agency and I joined him. Our work was in high demand at the time, the team grew quickly, and at some point I dropped out of studying and became the agency's creative director.

After a few years, when we had grown to almost 50 employees and were one of the market leaders at the intersection of branding and e-commerce, I heard about "generative design" for the first time through my good friend Tim Rodenbröker. He had learned about the method during his design studies and pulled me right in. Generative design brought together my background as a programmer and my experience from the agency world in a way that suddenly made sense to me and motivated me to experiment with this new approach night after night.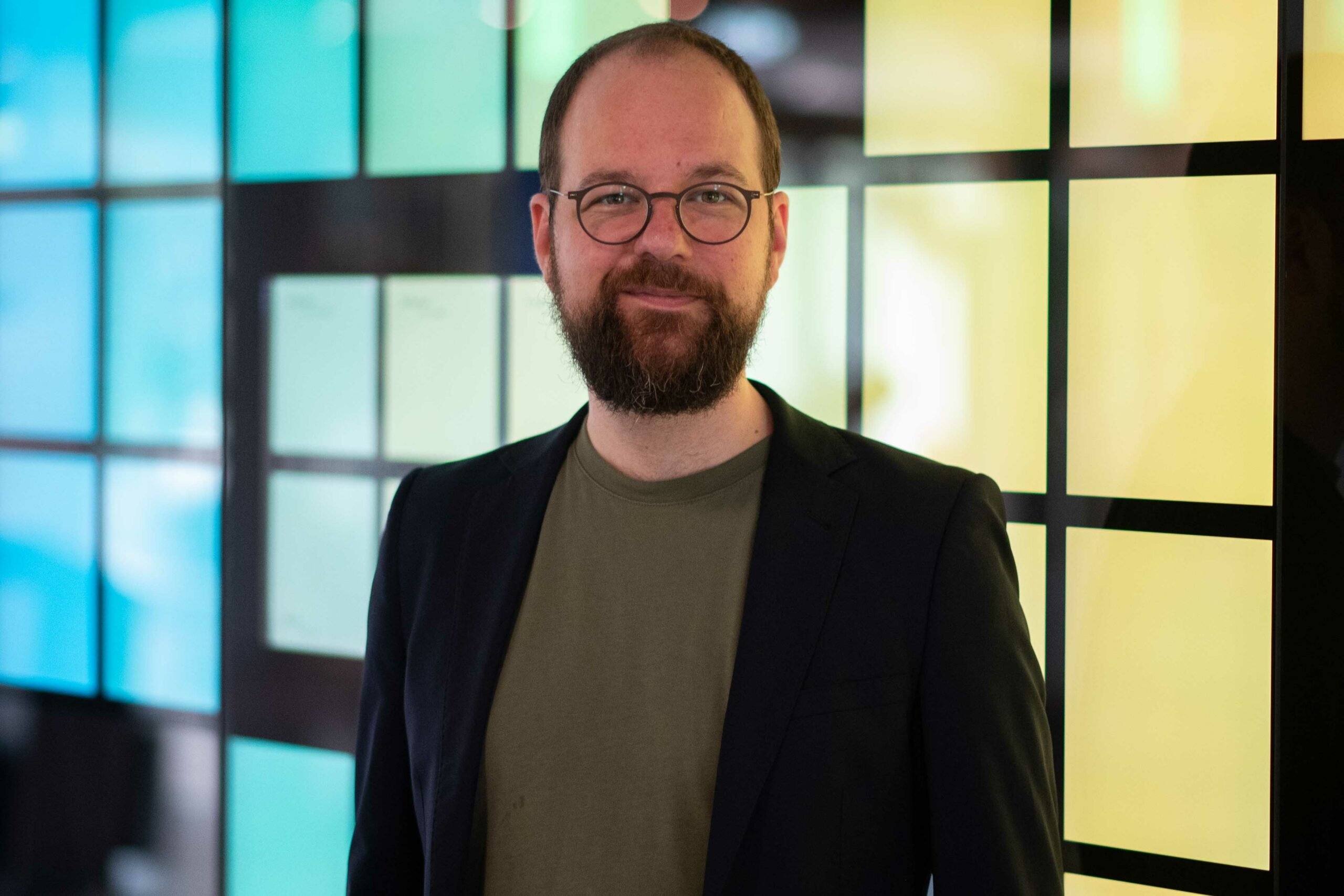 Grafikmagazin: And then you went all in on generative design?
Patrik: Well, not directly, of course (laughs). I first approached the method artistically. But with each new experiment, I realized more clearly how great the potential actually was for my work as a communication designer. And since I unfortunately couldn't convince my partner at the time to set up a new design specialization in the agency, I eventually decided to pursue the path on my own.
I have to say at this point that I was really lucky. After only a short time, Landor & Fitch Hamburg approached me with the perfect case. The story of a wine created under special circumstances wanted to be told with generative design: Brute. It was exactly what I had in mind, as generative design was not just 'decorative technical accessory', but the only design tool that could tell the story of the product in this way. In the end, Brute won a number of awards and to this day is a super accessible example to provide clients with an idea of the possibilities of generative design. Since this breakthrough, I've been in contact with agencies and companies from all over the world.
Early artistic generative design explorations.
2014-2017, Patrik Hübner
Grafikmagazin: How did you develop your focus on branding and brand campaigns?
Patrik: Using generative design as a method to create branding and brand campaigns was the logical conclusion of my development, because you can generate a huge competitive advantage in this sector by fusing programming, design and marketing. Plus, it's just the most fun for me. When you work with generative systems in branding, you need a certain understanding of technology and a willingness to dive deep into topics. It's precisely because I have both of these qualities that I was able to develop the way I use generative design today.
What I like most about design is that it's purpose-driven work that focuses branding very clearly on people. It's about getting the attention of a specific target group and then getting them excited about a product or brand – ideally with a good story. I always find it challenging and incredibly exciting to achieve this goal in the most creative way possible.
Grafikmagazin: What do you think about designers and agencies that don't have this enthusiasm for technology that you're talking about?
Patrik: I don't believe that there is THE one way to do the job of a designer. That's why I talk about 'my way' of using generative design. As you can see from my story, it is very subjective and always depends on the character of the designer. However, I am convinced that everyone who wants to stay competitive in the design space should know the principles of generative design – especially with all that is happening technically in the field of generative systems and AI.
Designers have always used tools – and artificial intelligence will expand that palette from now on. Whether we as designers like it or not, we will inevitably have to work with it at some point. However, since AI in some ways a black box, unlike our other tools, I think it is important to understand how the underlying principles of it work. Only then can we make the best use of it to achieve our goals.
Potential of
generative
design →
Grafikmagazin: How exactly would you describe the potential of generative design?
Patrik: The potential is vast, so it's really hard to put it in a nutshell. But one of the biggest potentials I see is that generative design enables storytelling on a whole new level. This doesn't mean that new stories can be told through the method – there are already so many of those in marketing and advertising – it's more about staging stories differently, with the help of the most important components of generative design: data. Through data, design systems are meaningfully set in motion – so, for example, the text of a book can now also form the design of its cover. Generative design is about meaningful interactions – just like life.
Grafikmagazin: That sounds incredibly exciting! How does a typical project work with you? Do customers and agencies even know how they can use generative design?
Very few agencies approach me with completely thought out cases. The extent to which an idea has already been worked out usually depends on how easy it is to tell the respective story via data. With Brute, for example, it was clear from the start that it would be weather data that would ultimately drive the design system and transition into the design. With other, more complex cases, it's often the case that I work with the agency or in-house teams to work out the 'storytelling elements' first, before we can talk about design.
Some projects are more technical, like the Munken Creator. This is actually a tool, a design instrument that connects to the company's story, but does not tell it on its own. Other projects are based on whole narratives, which are then expressed through data and program. For example, the design of an art car I created for Lexus tells the story of the eSports team 100 Thieves' journey to the World Champion title. The lines, nodes and curves of the design here reflect the actions and movements of the players* from 11 playoff wins.

Other agencies contact me prospectively. They are excited about what I do, want more info, and I am invited to give a keynote presentation on generative design. They then keep me in mind and if the brief and method fit together, bring me in for the next project.
Brute. A brand crafted by the elements.
2017, Landor & Fitch and Patrik Hübner
Grafikmagazin: In the last few months, you have written a book in which you address your work with generative design systems. How did it come about?
Patrik: During the pandemic, I decided to go back to studying. After learning design exclusively in practice, it seemed time to learn about the theoretical side of the job as well.
The Corona period was a good opportunity to study because I didn't have to be on site – I still had to keep earning money on the side though (laughs). From the beginning, I hoped that something like my book would emerge in the end. I've been looking for a text that explains what generative design is – written for people who don't know anything about coding. But until now, that didn't exist. The book was therefore deliberately aimed at beginners and addresses key questions: How do the ideas behind a generative project come about? Which topics can be represented particularly well with generative design? How do designers, agencies and end customers benefit from co-creation with the machine? I feel I have found good answers to these questions and hope to find the right publisher in the next few months to release the text into the world.
Even though the book is not yet published, I am currently already able to apply the knowledge in my seminar Generative Design and Artificial Intelligence at the University of Applied Sciences in Munich. The openness and enthusiasm that my students bring to the subject is just great. Their reactions show me again and again how much potential is actually still hidden here.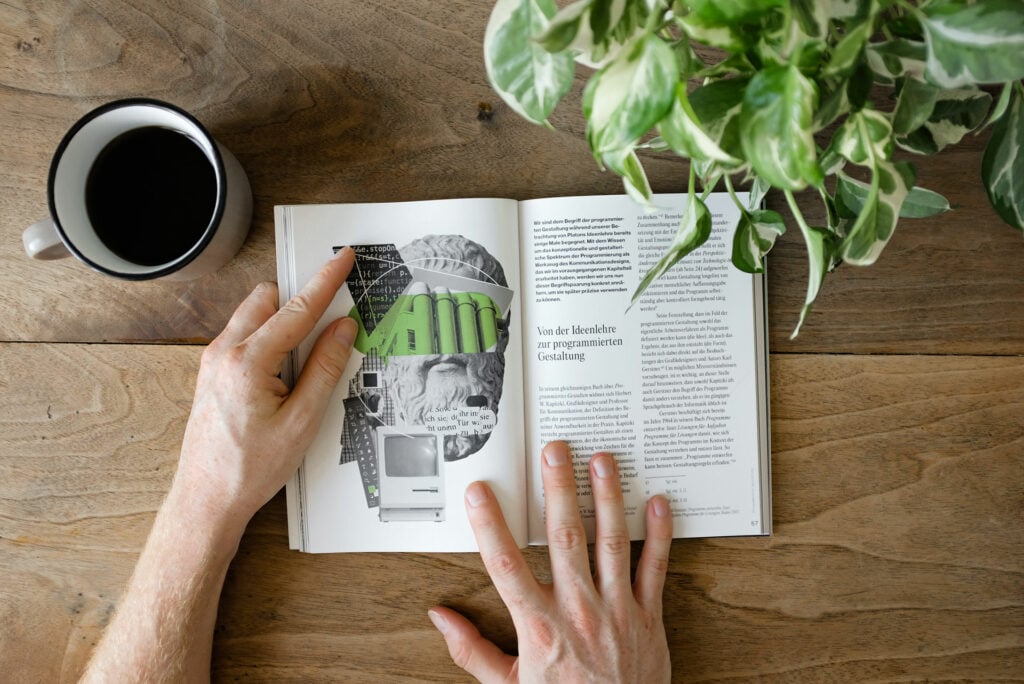 An early physical iteration of the current manuscript of Patrik's book. Working title: Finding meaningful connections. While the draft is written in German, the final book will of course be published in English.
Grafikmagazin: On your website you have numerous cases, experiments and even an idea generator. Is this 'generative playground' intended to make it easier for potential customers to approach the topic?
Patrik: Exactly. With my archive, I want to provide agencies with convincing material to help them reach their customers. You find very few branding cases involving generative design online, and without these examples, it's really hard to communicate an idea to non-experts that is supposed to be implemented with the help of the method.
This challenge was also a reason why I wanted to write the book. You need some understanding of the functionality of the systems to be able to confidently describe what generative design is all about. Precisely because this understanding is not yet sufficiently profound for most, I am often involved in ideation. If there are no examples to refer to, clients need a very good imagination, because it is difficult to envision the final form – the design – that will be created by the program.
The cases on my website help to overcome reservations. In the long term, however, it would be nice if an understanding of the possibilities of generative design would gradually develop beyond the design scene. The more people can think along, the more exciting the work will be in the end. And for me, the future of design is clearly generative.